ARDENT: The New Name (& Familiar Face) in Maritime Salvage
By Greg Trauthwein
Last month Svitzer and Titan Salvage announced plans to merge their salvage operations. Peter Pietka, former chief executive of Svitzer Salvage, takes the helm of the new combined company – to be dubbed Ardent and headquartered in Houston – on May 1. Maritime Reporter & Engineering News spoke with Pietka for insights on the path ahead.

Svitzer, the salvage division of AP Moller-Maersk and Titan Salvage, a division of Crowley Maritime Corp., will effectively meld two of the enviable corporate cultures in the maritime world, bringing together a pair of companies which include strong family roots and larger corporate development.
Last month the pair announced the plan to combine the salvage operations into one, larger operation, equally owned by each company. Ardent 'opens its doors' on May 1, headquartered in Houston, Texas, with offices in the Netherlands, the UK and Singapore
Discussions on maritime salvage today start with words like "risk" and "compliance," meaning long gone are the days when salvors were viewed as cowboys, as the legal and financial risk penalties in maritime and salvage operations today mandate a level of sophistication, engineering and expert support unlike any other.
"You can't be a cowboy anymore," said Pietka. "Today you are dealing with two types of risk: risk to the personnel involved: for example we are accustomed to coming to ships on fire, in some cases where the crew has left because It's too dangerous, and our guys are boarding from a helicopter. If you deal with that type of risk you need to be incredibly disciplined. The other part is financial risk. In managing both personal and financial risk, you need to be highly disciplined," otherwise it's gambling.
Pietka believes his combined team, with its accrued knowledge and long experience, will be well positioned to continue to be successful in the combined company's traditional core segments – emergency response and wreck removal markets – while also expanding operations into other business lines such as offshore decommissioning and underwater and diving services.
"The company will become an industry leader in wreck removal and emergency response," said Pietka. "Further, while remaining integral to our new company, emergency response and wreck removal will be part of a wider ecosystem of services. We have come together to build a more modern and effective offering for the maritime sector."

"One Leg in Both Camps …"
Pietka, 48 and a Danish citizen, said his chief challenge in the short term will be communication among the entire team, building a common culture and ensuring all are onboard with Ardent's goals and direction. With a career spanning 25 years and having previously lived in the U.S. twice for more than 10 years, he feels well suited for the task.
Many years ago he served on the Maersk corporate council team working out of New Jersey, and subsequently he ran the Svitzer tug boat operations for North and South America based in Miami. For the previous three years, he has worked in the salvage business based in Holland.
"I have one leg in both camps," said Pietka, noting that challenges are inherent in any combined venture, particularly one involving companies from separate countries on separate continents.

Timing is Everything
Oftentimes corporate tie-ups are a direct result of prevailing, long-term market conditions, which appears to be the case in the creation of Ardent. "I think that our industry is facing two opposite pressures," said Pietka. "One pressure (from the marine and the insurance industries) is the requirement to invest in new equipment," that will be able to offer emergency response operations to a fleet of ships that are growing increasingly larger.
For example, if one of the world's massive new containerships gets in trouble outside of port, salvage companies need the equipment to offload the ship efficiently and safely. Another area of growing concern is the ability to respond to the complex emergency scenario posed by the growing numbers of vessels with LNG onboard. "But at the same time, we are seeing that there are fewer incidents."
"The intention of this merger was to create a company which is stronger than either of the two companies would have been on their own," Pietka said. "It has allowed us to create a stronger company, that is better positioned to meet the requirements at a lower cost basis."
In Pietka's view, Titan was the perfect partner for Svitzer Salvage, as Titan has been historically strong on the wreck removal portion of the salvage business, including its role in the salvage of Costa Concordia, considered to be one of the, if not the, most famous salvage of all time. Svitzer Salvage in turn was particularly strong in the emergency response sector.
"We were very complementary in terms of each other's strengths and weaknesses."

Meet Ardent
The joint venture formed with effect from May 1 and will be headquartered in Houston, Texas, with offices in the Netherlands, the UK and Singapore. The new executive management team will be led by Peter Pietka; with Jeff Andreini, chief financial officer; Renier van den Bichelaer, chief commercial officer; and Paul van't Hof, chief operations officer; and Chris Peterson, merger manager.

(As published in the May 2015 edition of Maritime Reporter & Engineering News - http://magazines.marinelink.com/Magazines/MaritimeReporter)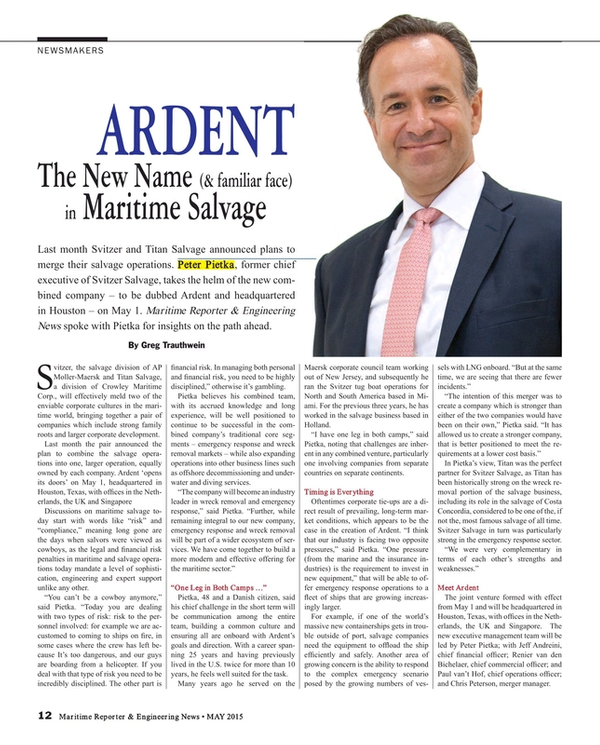 Read ARDENT: The New Name (& Familiar Face) in Maritime Salvage in Pdf, Flash or Html5 edition of May 2015 Maritime Reporter
Other stories from May 2015 issue
Content